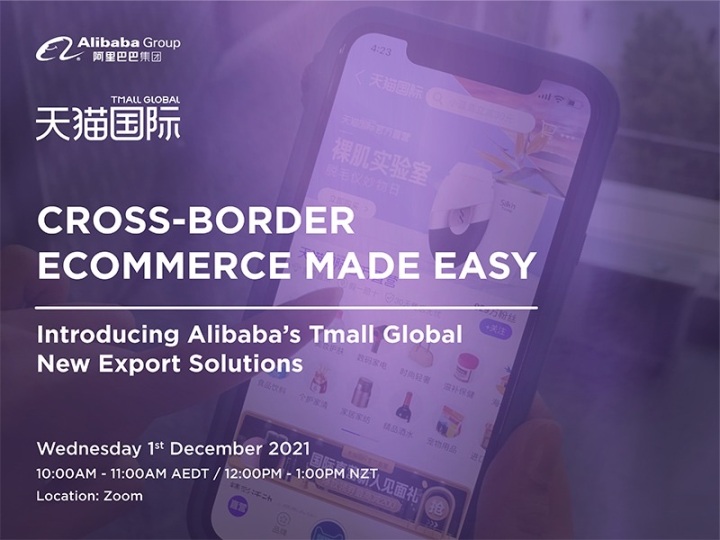 Cross-border e-commerce is a no-brainer for local merchants to ensure scalable and sustainable business growth. With the US$84.54 billion of Gross Merchandise Value (GMV) during the 11.11 Global Shopping Festival this year, exporting and selling in Tmall Global has proven to be an important means to capture the massive buying power of 900 million Chinese consumers, especially for International brands.
In the 'Cross-Border e-commerce made easy' virtual workshop, we will introduce a new Cross-border export solution ''Tmall Global Mini Store' , which is a bespoke solution for small businesses with a remarkably minimal cost. Experts from Alibaba Group Australia and New Zealand will guide you through the new opportunities of small Australian and New Zealand brands.
This webinar will be an opportunity for small export and retail thought leaders to understand this new and accessible means of business expansion. The webinar will be accompanied by a real time Q&A session with speakers and hosts.
Agenda
Welcome remarks
– Kit Yau, Head of Marketing, Alibaba Group ANZ
Creating Value for small businesses with innovative export solutions
– Maggie Zhou, Managing Director, Alibaba Group Australia and New Zealand
Introduction to Tmall Global Mini Store
Case Sharing
– James Sung, Tmall Global Business Development Manager, Alibaba Group Australia and New Zealand
Q&A Session